We are supporting the largest community solar installation in the UK through Ignite, the UK's first corporate impact investment fund focused on energy and backed by Centrica
Ignite is to invest up to £2m[1] in a project led by Generation Community, a social enterprise, that develops solar schemes which benefit low income communities who are struggling to keep their homes warm and well lit.    
4MW of solar photovoltaic installations on social housing, schools, libraries and leisure centres will be delivered through the community energy partnership, 'Energise Barnsley', which was set up by Generation Community with Barnsley Metropolitan Borough Council and Berneslai Homes (a local social landlord).  Meanwhile, Centrica's Distributed Energy and Power business will be the delivery partner responsible for installing and maintaining the solar panels.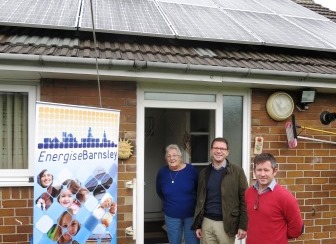 The project will not only safeguard the environment by reducing carbon emissions from energy, it will also help lower energy bills. For example, 320 social houses have already been fitted with solar panels and will benefit from savings of up to £150 on electricity bills.
The surplus income generated by the scheme via the feed-in tariff, will be used to fund local projects that benefit Barnsley residents. Residents and the wider community will also be able to invest in Energise Barnsley through the community share offer, which is projected to give an annual return of 5%.
Sam Salisbury, Investment Principal at Ignite said: "There are many barriers to delivering meaningful, large-scale community energy projects. I'm thrilled therefore that we were able to support Generation Community's unique model which delivers real social, economic and environmental benefits to deserving communities."
While Generation Community's project is pioneering, distributed energy generation is expected to become an increasingly important part of the UK's energy supply in the future. To lead the development of distributed energy, Centrica has created a new Distributed Energy business and will invest £700m in this area over the next five years. 
Read more about our role in distributed energy or how we strive to create positive impacts in society.