Remembrance Day on Sunday will mark one hundred years since the end of the First World War.
With Centrica's origins in the 1812 Gas Light and Coke Company (GLCC), our people played a vital role – both by serving on the front line, and fuelling the war effort at home.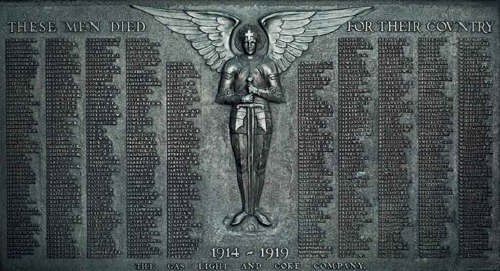 Serving on the front line
Overnight employees swapped their civic duties and were plunged into a soldier's life – lamp fitters become machine gun experts, clerks turned into captains and stokers morphed into platoon sergeants. The GLCC were proud of their people's bravery and commitment, remarking: 'Wherever they may be sent they will serve their country as they have served the Gas Light and Coke Company – that is, to the best of their abilities'.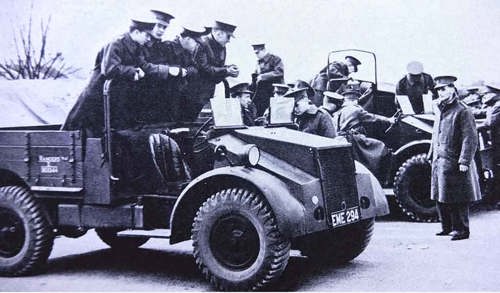 Loss of life was deeply felt. In October 1914, the Company announced its first casualty to be Mr K. Barclay, a Clerk in the Store Department and across both the First and Second World Wars, 950 of our people made the ultimate sacrifice.
The GLCC understood the challenges its people were facing and wanted to care for them as much as possible, providing an allowance for those with families and a fund to help widows or workers returning  home injured or disabled.
An employee who went by the initials C. H. R wrote to colleagues to say: "Just a few lines to let you know I am still alive and well. I have heard from my wife how generously the Company are treating her and it is with great comfort to know that those I have left behind are well provided for…There is a fellow Co-partner here we me. He was a service-layer at Leyton-stone. Another chap here is a great friend of a fitter at Goswell Road, so between us we get news of the Company, and often have a chat together on the Company's things. We have had a pretty rough time of it since we have been out here…We are now fighting a very big battle which has already lasted eight or nine days...Some of the sights we have seen have been awful – the dead and wounded, and houses ransacked, looted, and wrecked by the Germans - but space will not permit me to describe them all. There have been many a gallant deed done, and many a gallant lad lies low; but life is valued very cheaply in this game, and it is all taken as part of the day's work…Still, as I said before, we are all cheerful and happy, practically our only cares are for those we have left behind, wondering how they are getting on."    
Fueling the war effort at home
Employees who remained at the GLCC during the war were undertaking work of significant national importance. There was a growing appetite for energy to meet essential manufacturer and munition factories that were vital to the war effort which resulted in a huge expansion and efficiency in production. Meanwhile, the by-products of gas were becoming almost as important as gas itself and were in demand for a range of purposes – from paint for planes to fertilizers for farming. At the same time, the GLCC worked hard to ensure people in their homes had a steady supply of energy.  
With gas fueling the war effort and helping maintain the public's morale, employees soon came under fire from the enemy as they focused on disrupting production by attacking the GLCC's collier ships and energy facilities.   
Captain R. L. Jones of the 'S.S Halo' collier ship said: "You've not only got to dodge the mines. You've got to keep out of the way of those Nazi planes…on my last trip but one Hitler came out from Whitby and dropped six bombs only 50 yards astern of us…But we keep bringing in the coal. It will take more than Hitler to stop us doing that. And it's good to know, when we do safely dock, that every cargo of coal we deliver to the piers is another blow at Hitler."
Engineers worked tirelessly to repair gas works targeted by bombs and re-connected thousands of miles of mains to power millions of factories, hospitals and homes.
A consumer from Southall, London said: "As one of your millions of users of gas, I should like to extend my appreciation of the way in which you are keeping the service supplied during these dreadful periods of difficulty, through which you have to keep passing. I am certain that I am only one of many users who are very mindful of your endeavors to please and help the general public in these terrible times, and in response, I wish to say just 'Thank you very much'."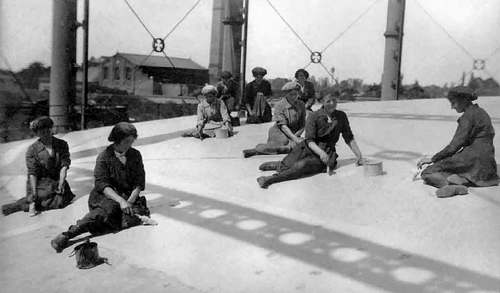 With the majority of male workers having volunteered or been conscripted, women entered the industry to plug the labour gap. The GLCC said they had, "obliterated all manner of ancient prejudices…setting up new standards of value" in their proficiency in carrying out essential work such as clerical or meter reading roles as well as heavy-duty and often dangerous roles including gas production and the handling of chemicals. This paved the way for women to play an increasingly valuable role in the energy sector.  
End
About the Gas Light and Coke Company
The Company was incorporated by Royal Charter in 1812 and became the largest gas company in the world. It was the original company that British Gas and Centrica descended. The company eventually became nationalised under the 1948 Gas Act. Following the 1972 Gas Act, the British Gas Corporation was created which merged all of Boards together and later become privatised. Centrica plc was formed in 1997 following a demerger from British Gas plc and BG plc.