Direct Energy is making a difference in communities across North America through its partnership with the Children's Miracle Network Hospitals
In 2014, Direct Energy launched a strategic charity partnership with the Children's Miracle Network, which is made up of 170 hospitals across the US and Canada. Since then, the partnership has grown from strength-to-strength, improving the lives of 3.3 million children and their families across our local communities.
Overall, Direct Energy has contributed over US$4.1 million (£3.2 million) in donations and fundraising alongside 1,500 volunteering hours to support the partnership. This has enabled us to save and improve the lives of children and their families – from supporting vital research and training to equipment and uncompensated care.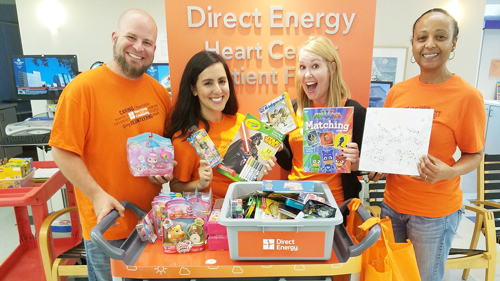 In 2017, these efforts earned us another year as a Miracle Million Club member. The Club is made up of companies and organisations that have donated a million dollars or more to the Network. This was achieved through a series of fundraising and awareness campaigns across Direct Energy and its family of brands.  
For example, in 2017:
we donated US$1 million (£775,000) to support our local Texas Children's Miracle Network hospital, which will be used to expand their Heart Centre;

employees laced up their shoes to walk, run and raise money through our annual health challenge, 'DE in Motion'. For each mile completed, we made a donation and together with our fundraising, we raised US$25,000 (£19,400);

Mister Sparky, Benjamin Franklin Plumbing and One Hour donated US$100 (£80) for each new purchase of equipment from October to December; raising over $50,000 (£38,800);

Home Warranty of America (HWA) donated $1 for every new sale and plan renewal from September to October and raised over $38,000 (£29,500).

Bounce Energy selected local Network Hospitals to receive US$2,500 (£1,900) via their social media campaign, with each new follow/like earning the hospital an additional $.50.
Want to know more? Explore how we are building strong communities