Find out more about Centrica's safety and priorities
There is no room for complacency in exploring, sourcing and generating energy because when safety hazards are overlooked, the consequences can be unimaginably tragic. We want to protect our people, communities and the environment, which is why process safety remains a key business priority across all of our high hazard operations. In doing so, we can help avoid potential major incidents from occurring - such as fires, explosions and the leakage of hazardous substances.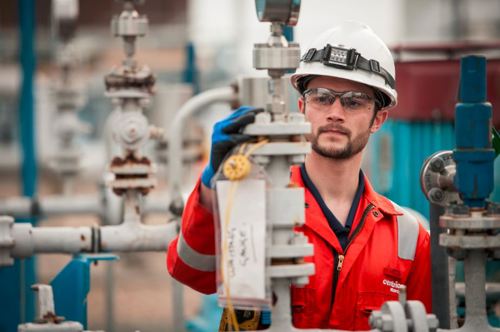 Significant effort and resource is being directed to ensure process safety is managed effectively. In 2014, we developed a comprehensive framework which will provide a consistent approach to managing process safety across the business, enabling us to become more efficient as well as identify and share best practice. Ultimately, it will help us achieve our long-term goal of, 'our assets are safe and we know it'.
As part of this work we have conducted process safety gap analyses in Centrica Energy Exploration and Production (E&P) in Canada and within our thermal generation power business in the UK. These gap analyses, together with other work already in existence, have enabled all our businesses to establish detailed process safety improvement plans spanning:
Identifying major accident hazards and assessing their risks
Managing mitigating controls across all stages of our activities from initial design into operations, to final decommissioning and closure
Providing assurance that the controls are effective through ongoing audits, inspections and data analysis
Alongside these processes, it's also vital that we continue to embed a best practice safety culture among our people. We encourage all of our people to speak up on process safety issues so that we can put in place corrective actions to prevent similar incidents re-occurring. Training is also provided to remind people of how important it is to keep focussed on process safety and what's at stake if we don't. In 2015, E&P rolled-out a new process safety workshop designed to help operational leaders better understand their role in preventing major incidents and sharing learnings with their teams. During the workshops, leaders were given a chance to learn from recent major industry incidents and tasked to look at specific ways process safety can be improved at their own sites.
We measure our performance through actual and potential events. In 2014, we had no significant process safety events, which was the same as in 2013 and compares favourably with peers in the wider oil and gas industry. However, there were 11 high potential events (a near miss that could have resulted in a serious incident), which is also at a similar level to our performance in 2013. As a result, we have investigated all of these events to understand the immediate and root causes, to help us improve. At the same time, the overall frequency of process safety events increased significantly by 91%. The increase primarily consisted of low impact and near-miss events, due mainly to our people becoming more diligent in reporting.
There is need for constant vigilance to guard against major incidents so in 2015, we will continue to update our framework for managing process safety and execute targeted programmes that strengthen our approach to process safety risk, control and assurance