Hello again!
My first 8 months with Centrica simply flew by. I completed my first role in SAP Strategy and Innovation at the end of April and have since joined the SMART Metering team in an Application Development & Support role.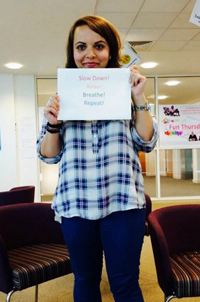 During my time in Information Systems, I have learnt something very important: at Centrica, you will be encouraged to step outside your comfort zone. You will be supported in achieving your personal development goals but it will be you who steers the direction in which you take your career.
I openly expressed my lack of confidence when presenting to big audiences in a 1-2-1 with my manager. To help me overcome my fear, my manager set me the task of delivering a knowledge share presentation. He said this would give me a confidence boost and that presenting with style is not something you are born able to do; it is just one of those things you get better at by practising. He offered me a great deal of support and told me he trusted in my ability to give a great presentation. 
So, towards the end of my role I was honoured to be the first graduate to deliver an internal 'The Core' presentation about Cloud Computing. It was a lunchtime session where different teams across Information Systems shared new technologies, discussed what they do on a daily basis and interesting aspects of their work with fellow colleagues.
I was so nervous on the day; even today, I can still remember all the thoughts running through my mind before I started. I prepared very well, I knew what I was going to present and I was ready for questions. Despite all that, it was still incredibly nerve-wracking. I was worried because I tend to speak too fast so I decided to print an A4 sheet with the words: "Slow Down! Relax! Breathe! Repeat!" on and stick it at my eye level on a wall behind the audience.
In the end, it went really well. In front of about 40 colleagues (managers, developers, specialists), I was able to present confidently and keep people interested and engaged with my subject matter. When I felt I was speeding up, I looked at the note on the wall and managed to get back on track. I tried to be natural and deliver the presentation almost like a story. I have had feedback from several colleagues that they are using my presentation as a model example of an effective presentation.
I am now taking every opportunity to present and have set myself the challenge of becoming an expert in delivering presentations in front of people and constantly improving my presenting skills. I booked a full day of training on the topic and I added this to my personal development plan.  
As I've said before, no two days are the same here at Centrica. Every day brings an opportunity to learn something new and exciting. I'm 10 months into my graduate scheme and I can firmly say that I am thrilled with my job - I love it.
Find out more about Centrica's Graduate and Undergraduate schemes here.