Information on British Gas' Generation Green programme
As Britain's leading energy supplier, we have a central role in helping communities revolutionise how energy is consumed and generated. One of the ways we're doing this is by engaging the next generation to use energy more sustainably, while inspiring them to become the energy innovators needed for the future through science, technology, engineering and maths (STEM) skills. This is exactly what British Gas' education programme, Generation Green does and so far, we have engaged over 14,000 schools across Britain.
We give schools the opportunity of winning an energy makeover to learn about the benefits of renewable and energy efficient technology. Technologies such as solar panels, insulation and energy-efficient lighting enable the schools to reduce their energy use, save money and cut carbon emissions. For example, 15 schools who received an energy makeover in 2013 are now collectively saving over £100,000 each year on their energy bills. An interactive display enables the students to see these benefits first-hand, put into practice energy saving tips while learning about the importance of sustainable energy generation.
To win an energy makeover in 2014, schools with the most inventive eco-house ideas took to an energy harvesting dance floor to see who could generate the most energy and therefore gain £150,000 to improve their school's efficiency. In early 2015, a competition will be launched for students with the most creative, fun and innovative ideas on how their home could save energy, with winning schools to be awarded an energy makeover.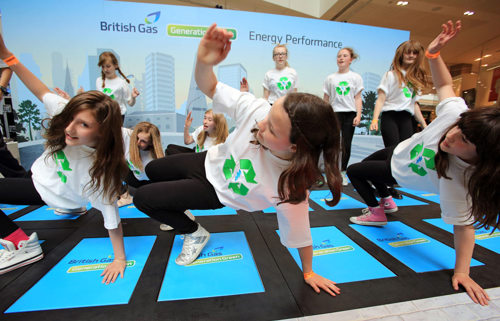 Since 2010, British Gas invested £17m in delivering 30 energy makeovers and have installed nearly 260 solar panel systems in schools. In both 2014 and 2015, we have committed £1m to delivering energy makeovers.
Innovative classroom resources are also provided and in 2014, we designed a module for year five students in association with the National Schools Partnership, to bring energy and sustainability to life within the science curriculum. In 2015, the module will be expanded to even more schools with volunteers from British Gas to support its delivery.