Securing energy our customers need
In a recent poll conducted by the CBI, 73% of business leaders rated energy security as a crucial energy objective for the UK1. We agree because while the UK's demand for energy remains strong, North Sea gas reserves are declining so the UK has to import increasing amounts of gas from overseas2. Securing long-term energy supplies is therefore a driving force for how we do business as we have a responsibility to keep millions of Britain's homes and businesses warm and well lit. So in today's blog, I'm going to talk to you about the role we are playing in securing reliable and responsible supplies of energy, both now and for the future.
Our commitments to secure energy for our customers total around £60bn and as you can see from the infographic below, we have a diverse energy portfolio.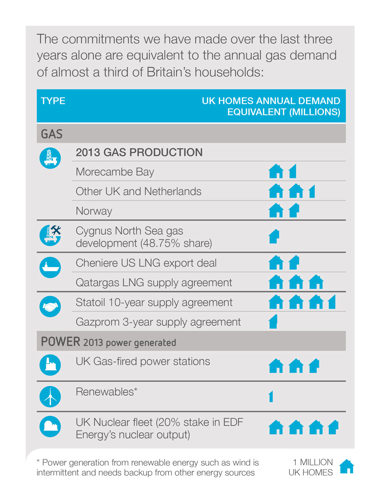 Why is diversity important? It's essential because it ensures greater security for the future by reducing reliance on one source of energy and helps us better meet the conflicting priorities of the energy trilemma – the challenge of securing energy supplies the UK needs at affordable prices while meeting binding commitments to reduce carbon emissions. To meet this challenge, we must maximise traditional resources in the UK and compete in global markets to seek new ones. It also means we must work closely with our partners at home and overseas to explore different energy sources and innovative technologies.
Securing affordable energy
We recognise that homes and businesses are experiencing increasing pressure on their incomes, so it's essential we keep energy affordable – according to CBI's poll, 95% rated affordability as 'important' or 'very important'3. With gas remaining an affordable and plentiful energy source - heating over 80% of Britain's homes - it's a fuel at the heart of Britain's energy security and at the core of our strategy.
If you look at our infographic, you will see that our £1.4bn Cygnus North Sea gas field development which is currently under construction, will eventually provide enough gas for 1.5m homes at peak. This represents the largest discovery in the Southern gas basin for 25 years, and is one way that we're working to maximise recovery of the UK's existing resources.
Long-term supply contracts are additionally important to help protect the UK from volatile commodity prices. This is why we signed a £13bn deal to extend our gas import agreement with Norway's Statoil by ten years to 2025.
We are also innovating to secure new sources of supply. Last year, we became the first UK energy supplier to sign an agreement to export liquefied natural gas (LNG) from the US; a 20-year deal worth £10bn, which together with shipments from Qatar, could provide enough gas to heat 4.8m homes. Experts also believe that the development of natural gas from shale rocksmay play an important role in the future, potentially reducing imports from 89% to 78% in 20354. As a result, we have invested in a 25% non-operating share in the Bowland exploration licence with Cuadrilla Resources to determine its potential.
Reducing energy's environmental impact
We also have an important responsibility to secure energy supplies in a way that limits our impact on the environment. Our strategic investments in gas (the cleanest of all fossil fuels), nuclear (low carbon) and wind energy (renewable), means that we have one of the lowest carbon intensity fuel mixes of suppliers in the UK. And while alternatives to fossil fuels must be explored to realise a low carbon future, gas will continue to have a significant role in the transition, especially as it has the flexibility required to back up intermittent generation sources such as wind. And in recognition of the focus we place on safeguarding the environment, we recently ranked as the top performing utility in the 2014 Global 500 Newsweek Green Rankings.
The energy infographic above additionally shows that low carbon and renewables have a prominent place in our energy mix. I'm happy to say that we are one of the leading offshore wind generators in the UK and have equity interests in five operational wind farms, where our Lincs offshore development is capable of powering up to 200,000 homes. Moreover, our 20% equity stake in the UK's nuclear fleet provides a stable source of low carbon baseload power.
But in order to achieve optimal levels of energy security, it's imperative that we also empower our customers to reduce the amount of energy consumed. This not only cuts carbon emissions from households, which represents the biggest source of emissions within the energy industry, but also reduces strain on energy supplies. So what are we doing? We're giving our customers greater control and insight to reduce their demand for energy. For example, British Gas is leading the market in delivering energy efficiency products and services through innovative technology such as smart meters, remote heating controls and microgeneration. And since 2010, these technologies have contributed to saving around 9.8m tonnes of CO2 equivalent emissions which is comparable to taking 668,000 cars of the road.
I'm proud of what we're doing to keep Britain's lights on, but there's always more to be done. We must remain committed to investing in energy sources for our customers, help consumers reduce consumption by becoming more energy efficient, while government must continue to provide appropriate regulatory and policy support to make progress for the long-term possible.