Find out more about Centrica's efforts to protect the ozone layer
You may have heard the United Nation's (UN) announcement earlier this month that the ozone layer is recovering faster than expected and forecast to be more or less healed by the middle of the century. This dramatic improvement is largely as a direct result of ozone depleting chemicals being banned under the Montreal Protocol, which reaffirms my belief that taking collective corrective action can make a truly significant difference in reducing the impact of the modern world on the environment. With today being International Day for the Preservation of the Ozone Layer, I thought it would be a great opportunity to talk about what we're doing here at Centrica to ensure our impact on the ozone layer is minimised.
Let's start with what the ozone layer is and why it's important.
The ozone layer is a shield of gas that forms part of the upper atmosphere and plays a very important role absorbing ultraviolet radiation from the sun, preventing it from reaching earth. Ozone Depleting Substances (ODS) such as chlorofluorocarbons (CFCs) - which used to be found in products like aerosols and refrigerators - can damage the ozone layer, increasing our exposure to ultraviolet rays that can cause skin cancer as well as destroy plants and wildlife. Without the Montreal Protocol, the UN estimates that the atmospheric levels of ODS could have increased tenfold by 2050 and that its efforts will have prevented 2m cases of skin cancer each year to 2030.
So what is our impact on theozone layer?
You may be surprised to know that as an energy company, our impact on the ozone layer is limited. This is because we are a relatively low emitter of ODS, as the majority of our emissions relate to carbon emissions generated from power generation and our customers' energy consumption.
Nevertheless, we do use ODS in our gas production processes and potentially in our air conditioning and refrigeration units at some offices and energy plants. However, use of these ODS only becomes a problem if they leak into the atmosphere and the majority are currently subject to an European Union (EU) phase-out programme that completes at the end of this year.
Minimising our impact on the environment is an important part of how we do business and we're taking action across our organisation to reduce our impact on the ozone layer. A key way that we do this is by monitoring and controlling our air emissions using robust management systems and innovative technologies. We are also working hard to ensure our operations reduce both usage and leaks of ODS and, as you can see from the graph below, we are making strong progress in doing just that.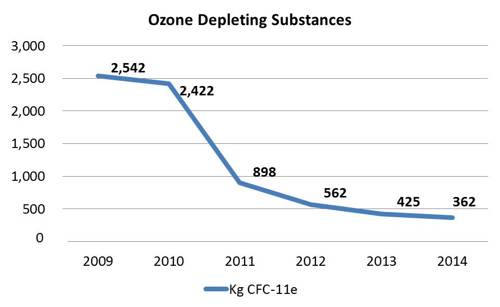 Installing an £84m pipeline to reduce ODS
A specific example of action being taken is demonstrated by Centrica Energy's Exploration and Production business, where we are installing an £84m underground pipeline at Barrow-in-Furness, which will run 1.5km from the existing south to the north terminals. This will ensure we comply with the EU ban on purchasing new stocks of Freon after 2014, which is currently used to cool gas piped into the south terminal in order to remove moisture before being fed into the National Grid.
Barrow is responsible for around 8% of the UK's gas supply and in order to keep the gas supply flowing after the ban comes into force we have had to look for alternative technologies. The solution? The solution is to utilise technology already in place at the north terminal where a 'drying bead' will be used to absorb the moisture in a similar way to silica gel found in product packaging, thus removing the need for Freon at the south terminal.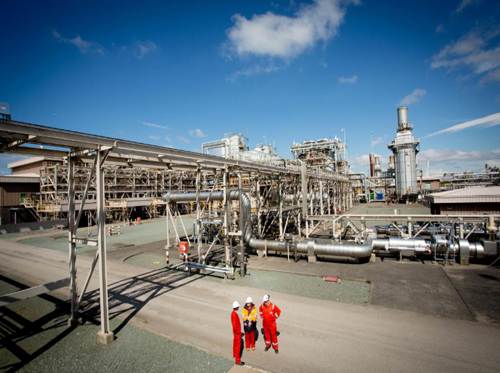 The project - which involves 300 people working on the engineering, fabrication and construction – is progressing well and its completion by the end of next year will ensure that production from the Barrow Gas Terminals will continue long into the next decade and beyond.
The recovery of the ozone layer is a major environmental success story – I wonder what we could achieve if each and every one of us committed to taking real and meaningful action to mitigate climate change?
You can find out more about our approach to safeguarding the environment on our website.