Centrica & British Gas - Driving down fleet emissions with electric vehicles
Today's blog comes from Colin Marriott, General Manager of Fleet at British Gas. As the largest energy company in the UK, Colin has an important role in managing the British Gas fleet which serves the needs of around 11m customers up and down the UK.
Colin Marriott, General Manager, Fleet:
It's vital that we have an efficient and reliable fleet that transports our engineers to where our customers' need them. But I also believe it's important that we do this in a way that limits our impact on the environment by reducing carbon emissions and other harmful emissions from travel. My team and I are working hard to do just that through a number of initiatives - such as fuel efficient driver training as well as new and innovative low carbon transport solutions like electric vehicles. Having just rolled-out 50 Nissan e-NV200 electric vans across our fleet with a further order of 50 planned for delivery early next year, I wanted to focus today's blog on why we believe that electric vehicles are an essential component of our fleet.
Let me start with where our elctric fleet journey began - the UK's largest ever electric vehicle trial
Our electric vehicle orders are the direct result of a successful six month trial which ended earlier this year and involved 28 of our engineers driving more than 60,000 miles, to assess the performance and viability of electric fleets over winter. The trial was the UK's largest and involved collaboration with Nissan to trial their new e-NV200 van, Hitachi Capital Commercial Vehicle Solutions to manage the fleet operations while Gateshead College and Fleet Master trained our engineers to drive efficiently and safely.
We were extremely impressed with the trial which not only proved that all-electric vehicles could be an effective part of commercial fleets, but will also help shape the global future of sustainable fleet management.
Our engineers liked the vehicles too –I spoke with Paul Kidd who is a British Gas Service & Repair engineerfrom Northumberland who said: "I can sometimes spend hours each day driving between customer's homes, but the Nissan e-NV200 made that just a little bit easier. It was smooth, stress-free…I would absolutely recommend the van to other engineers, particularly as the technology improves and more charge points are installed. It's definitely the future".
And today, I'm proud to say that we are UK leaders for electric vehicle fleet transport and the largest operators of e-NV200 vans in the world.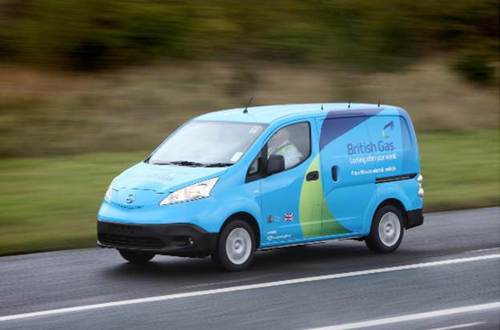 So what is our motivation? The answer is to drive down emissions and the cost of travel
At a time when our business like many others is under pressure to reduce both carbon emissions and costs, we believe that electric vehicles have a really important role to play which is why we are leading the adoption of electric vehicle use and have committed to 10% of our 13,000-strong fleet to be all-electric by 2017.
For example, based on a British Gas study conducted by the UK's Transport Research Laboratory, we found that companies could reduce their carbon emissions by more than 5% and save an average of £350,000 each year by switching just 10% of their fleet to electric1. Our partnership with Nissan enables us to achieve reductions because the e-NV200 vehicle is a revolutionary zero emission compact van that not only helps limit the environmental impact of travel, but also ensures significant savings from running costs2.
Our low carbon efforts were recently recognised with gold at the Green Fleet Awards
I'm pleased to say that we recently secured two prizes at the Green Fleet Awards, which recognises the achievements of strong environmental fleet management and green motoring. We gained top places for the Private Sector Fleet of the Year (for medium to large fleets) and Outstanding Achievement Award for our partnership with Nissan and Hitachi Capital for conducting the trial I mentioned earlier.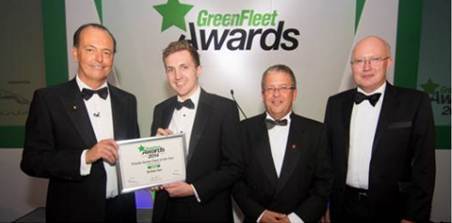 My colleagues and I receiving our award at the Green Fleet Awards
Helping others follow our lead
Here at British Gas, we also want to help others benefit from the roll-out of electric vehicles which is why British Gas also provides dedicated electric vehicle charging solutions and tariffs. For example, we have installed over 6,400 charge points in the UK and have partnerships in place with Nissan, Renault, Hitachi Capital, Toyota, Vauxhall and Volvo among others.
If you would like to find out more about electric vehicles visit British Gas' website or explore out internal carbon footprint in our 2013 CR Performance Review.