We're proud to have featured in this year's Times Top 50 Employers For Gender Equality, alongside other brilliant businesses paving the way for equity in the workplace.
But we know that this journey isn't straightforward.
So what is Centrica doing to drive progress? From recruitment to retirement, here's how we've been supporting women across the business and beyond…
At a Glance
Why the The Times Top 50 matters more than ever
What the award means to Centrica
How we've been taking action
Creating an inclusive culture for the long-term
Why The Times Top 50 Matters More Than Ever
This year's list comes at a pivotal time for gender equality at work, with the cost-of-living crisis continuing to impact UK households. Despite progress in certain areas, inequality has worsened for some women and girls – especially from an intersectional perspective. 
Inequality also remains rife in the energy sector:
Only 16.5% of engineers in the UK are women (with just 0.2% are Gas Safe Registered)
Wages for women in energy are 19% lower than men
Just 20% of senior management roles are held by women in the energy sector
That's why, at Centrica, we're working to be braver and bolder in our actions – engaging colleagues across the business to create an inclusive environment for everyone.
*according to the Women's Budget Group
What The Award Means To Centrica
Being recognised by The Times Top 50 indicates that we're on the right track. We caught up with senior leaders from across the business to share their thoughts on this recognition: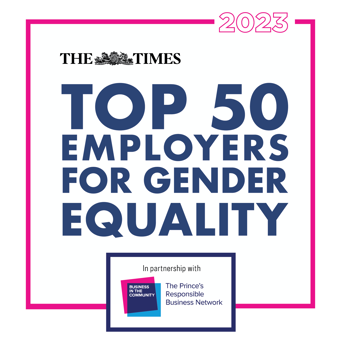 "Being a Times Top 50 employer in Gender Equality is a strong endorsement of our Inclusion and Diversity efforts. We believe that the best places to work are those that promote a culture that includes everyone. This not only creates opportunities for individuals, but also enables the business to succeed in the future as a result of benefitting from greater diversity of talent, skills, and experience. Whilst we recognise we still have a long way to go on our journey, this recognition strengthens our commitment to drive positive action both within our business and the energy sector more broadly."

Natalie Robinson - Senior Responsible Business Manager
Creating more diverse and inclusive workplaces requires all of us to step up and play our part.  If all of us as individuals take action – no matter how big or small – then the cumulative impact and contribution to societal change will be massive.  Simply being a visible active ally of diverse groups is one of those actions that we can all take which helps to promote the understanding between individuals and creates the type of environment where we all feel a sense of belonging.   Being an ally is a really important responsibility for me because it helps me to understand the challenges women and other individuals from diverse backgrounds face every day, which enables me to do what I can to help create the right support and the right environment to help people flourish.
Raj Roy - General Counsel & Company Secretary
How We've Been Taking Action
We want to make sure that everyone can thrive in their roles and support others to do so. Here's how we've been working to achieve that:
Building a more diverse workforce
 Reaching equity starts with breaking down stereotypes and breaking through the glass ceiling. This will bring more women into Centrica and into the industry – giving them access to the highly-skilled, well-paid jobs that are commonly occupied by men, and helping to bridge the pay gap.
That's why attracting, promoting and retaining more diverse talent is our top priority.
A huge part of this is achieved through open conversation, and raising more awareness of opportunity. Take last year's visit from Bridget Phillipson MP. She came to British Gas's Dartford Academy to meet with our Smart Energy apprentices, joining Jill Shedden (Centrica's Chief People Officer) and Jana Siber (British Gas Service & Solutions MD), to talk about how we can continue to attract more women engineers and improve their experience.
One of the ways we're making sure that happens is by listening to our engineers and acting on their feedback. For example, we're now introducing workwear that's more comfortable, and collaborating with specialists to provide maternity wear that's completely fit for purpose.
We also started running targeted recruitment and marketing campaigns, demonstrating how exciting a career in energy can be. This is part of our goal to recruit 3,500 apprentices, with the ambition that 50% will be women, by 2030.
At the same time, we're inspiring the next generation of young people from under-represented groups to kick start a career in energy.
Whether that's backing the Tech We Can education programme, reaching almost 20,000 students, or providing early support through the Women into Manufacturing and Engineering Raising Aspirations programme, we're giving women the exposure to energy that they wouldn't otherwise have.
And we believe that recruiting women, and a more diverse workforce, isn't just essential for society – but for the planet too.
As part of our People & Planet Plan, we've made it clear that we can't achieve a sustainable future without an inclusive team. Because when different people with different perspectives and experiences come together, we can create better solutions for people and our planet.
We're making good progress. But there's still work to be done.
Bringing more women into leadership
But we're not just focused on entry level roles. We know that discrimination affects women at all stages of their career. So championing female leadership, and getting more women into senior roles, is a key part of our strategy – which is why we're reinvigorating talent and development programmes to help under-represented groups progress their careers.
This includes launching opportunities via the Everywomen in Leadership programme and Black Leadership Academy – giving women the chance to meet with like-minded professionals and providing them with the tools they need to shift their approach to leadership.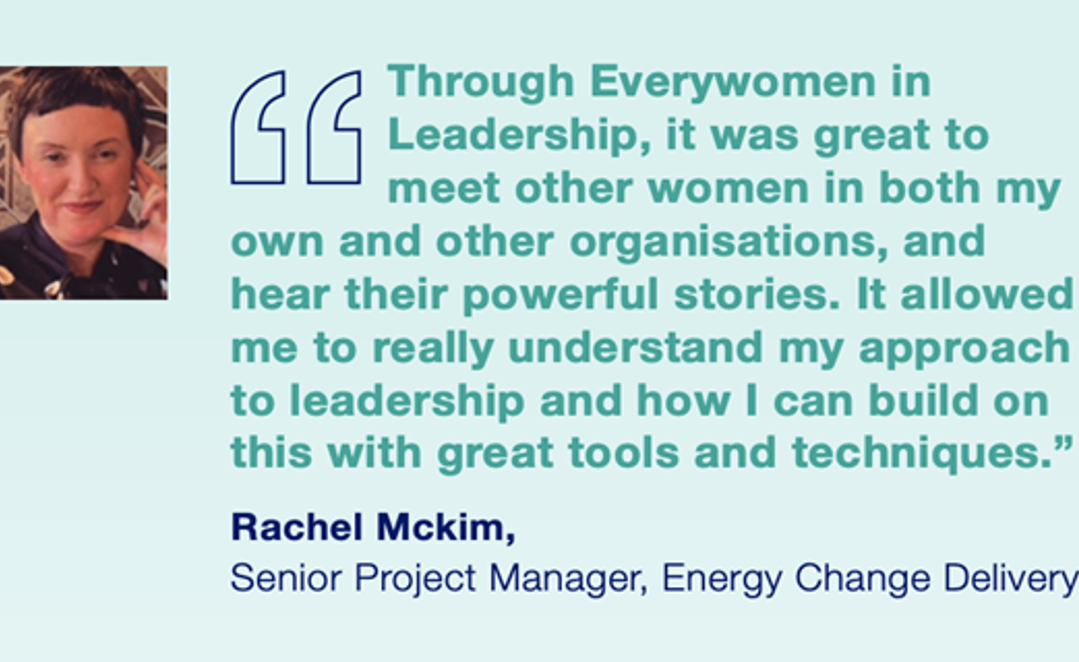 We also offer in-house reverse mentoring, pairing colleagues that are just starting out with long-standing leaders, so they can share key learnings and experiences. Creating a space where women and wider colleagues can exchange knowledge, at different stages of their career is key to building a more inclusive culture. And this programme is popular – with 70% of colleagues saying that the initiative has surpassed expectations. A great sign that we're moving in the right direction.
Equality with empathy
Equality is for everyone – so we've put policies in place to ensure people from all walks of life get the support they need to thrive professionally and personally:
Transitioning at work toolkit: we've embedded guidelines for colleagues that are transitioning, ensuring leaders role model inclusivity and put the support in place for all gender identities.
'Let's Talk Menopause' guidelines: includes explainers about signs and symptoms, encourages open conversations between colleagues to break down barriers and offers flexible working arrangements for those experiencing severe symptoms
Domestic abuse policy: driven by our Women's Network and developed with leading charity Hestia, the policy helps teams spot common signs of abuse, and helps safeguard remote workers and colleagues through the 'Ask for ANI' (Action Needed Immediately) codeword scheme
Flexibility for parents and carers: as part of our Working Parents Network, we created a toolkit for managers who have team members returning from parental leave. We also introduced the FlexFirst app – giving colleagues the choice to work from home when they need to, or shift their core hours, to improve work-life balance for parents and beyond. The app also gives those living in different regions a chance to take up development opportunities.
Creative And Inclusive Culture For The Long Term
 We believe that gender equality is a "work in progress", and driving this progress goes beyond policy.
It's about building a culture where people can bring their whole selves to work.
It's about diverse representation; the presence of difference in our teams and leadership, creating teams that truly reflect our customer base.
It's about equity of opportunity; ensuring everyone has fair access to career opportunities and personal and professional development.
It's about valuing difference; creating an environment where colleagues feel safe, valued, welcomed, respected, heard, supported - all of which drives their best performance at work.
To ensure we're building this workplace, we've set ambitions to keep us on the right track for the next 7 years. Our 2030 goal is to create an engaged team that reflects the full diversity of the communities we serve*:
48% women
18% ethnically diverse
20% disabled
3% LGBTQ+
4% ex-service
*in line with the 2021 Census data for working populations
So, in an ever-changing landscape, we'll continue to be bolder and braver in our actions. Building a more equitable workplace at Centrica, and encouraging other businesses to do the same.