Jim reveals how we exceeded our ambitious target for 2015, reducing the carbon footprint across our business operations by 27%.
Seven years ago, we publicly committed to reducing our core internal carbon footprint by 20% and I'm proud to reveal today that we've exceeded this target, achieving an overall reduction of 27%[1]. This not only demonstrates our enduring commitment to safeguarding the environment, but helps us become a more efficient business because reducing carbon can also reduce running costs.
It was an ambitious target spanning 35,000 of our people, 100 offices, 15,000 company vehicles and business travel by air or rail.
So how did we do it?
With property and fleet forming the lion's share of our in-scope emissions at roughly 30% and 60% respectively, this is where we focused our attention.
We reduced our property emissions by 44%. Reductions were secured by driving down energy use through efficiencies such as increasing occupation density alongside innovation and technology. For example, we utilised British Gas' expertise to install biomass boilers at six sites, solar at 23 sites while LED lighting was delivered across many of our locations. In 2013, we also opened an award-winning low carbon office in Oxford, which utilises all of these technologies and more. And today, I'm pleased to say that our Oxford site is capable of generating 30% of its own energy from lower carbon sources.
We've been no less impressive on the fleet side, having reduced emissions by 23%. Here we concentrated on upgrading our vans with cleaner, more efficient models and installing GPS to reduce unnecessary mileage. A key milestone for me, was our pioneering trial of low carbon electric vans which was the largest of its kind in the UK and we're now a leader in electric commercial fleet transport with 113 in our fleet. This means we're on track to secure 10% of our 13,000-strong fleet to be fully electric by the end of 2018 and we hope to have over 2,000 electric vans in our fleet by 2025.
A 17% reduction in company car emissions were also accomplished through promotion of lower carbon options and initiatives like driver training. Over 170 of our employees have signed-up for electric or hybrid company cars and we continue to encourage uptake by growing our on-site charging infrastructure which currently totals over 40 charge-points.
Many other initiatives such as video-conferencing and commuting studies have also helped us achieve our target, offsetting increased rail and flight emissions which were mainly due to the global growth of our business.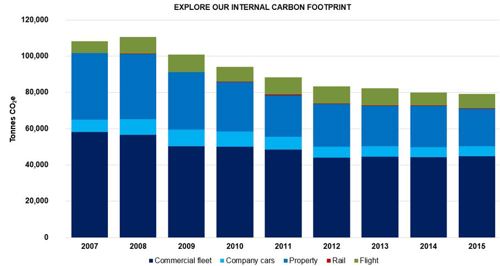 What's next?
I'm hugely excited that we'll now work towards our new, equally ambitious target - to achieve a further 20% reduction of our internal carbon footprint by 2025. While we'll continue to drive down emissions in the UK and Republic of Ireland, North America will be a big focus for us - from introducing increasingly efficient and hybrid vans in our fleet to using our own expertise to generate renewable energy by installing solar at some of our sites.
These are just some examples of why Centrica is seen as a leading organisation that effectively manages its environmental impact through innovation, technology and cultural change.
Want to find out more about our environmental performance? Visit Responsibility.