Vicki Brammall, one of our 2015 Graduates, reveals her top tips for taking the stress out of graduate scheme applications.
It's not just autumn that has arrived without warning – application season is well and truly upon us. This may come as a bit of shock to the system so soon after the beginning of term, but now is the time to realise that university doesn't last for ever and it's time to enter the world of work!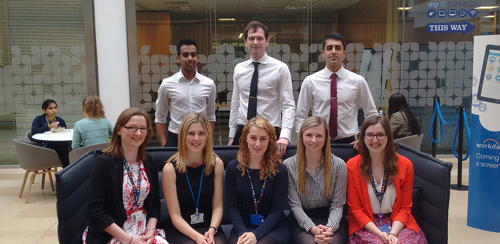 As a graduate now starting my second year of the BG Analyst stream I've been through a fair number of application processes!  Here are a few tips that I've picked up along the way which should help to make applying for graduate schemes a bit less stressful:
1. Get organised
Chances are, when applying for graduate schemes or summer internships, you'll be applying to more than one and the ones that you do apply for will have fairly similar application processes. One of my housemates at university had a comprehensive Word document saved to his laptop containing his answers to all of the standard competency based questions that tend to come up in an application. Instead of having to come up with fresh answers every time, he was able to use those that he had prepared in advance and then tailor them to each specific company. Make sure to keep on top of when applications open and close too – quite often companies will close their portals once they've got enough applications so make sure to get yours in early!
2. Do your research
One of the key things to do before pressing the "Submit" button on your application is to make sure that you've done your research on the company that you're applying to. Rather than limiting your investigation to the company's website and Wikipedia page, make sure that you look in the news and check out their competitors too; it's a great way to learn about the industry you're applying to! Slip this knowledge into a telephone interview and you can score real brownie points.
3. Keep an open mind
Like a lot of students, I didn't have a clear idea of what I wanted to do after university. If you're in this situation and are reluctant to apply for jobs unless you know exactly what industry or role you want to work in, don't panic. If you're uncertain of whether you'd be suited to a role, you could always apply for an internship with the company first. These are great opportunities to not only get valuable work experience but to also work out if the company and role is right for you, plus many companies will offer graduate roles for their next intake off the back of a successful internship.
If you're still unsure of what sort of role you'd be best suited to, many businesses have online tools available to help determine your strengths – why not try out our "Match-Me" tool to see if you're the right fit for us and where in the company you'd be best suited?
4. If at first you don't succeed, try and try again!
Don't be disheartened if you receive any rejections along the way. The graduate market is a competitive one so make sure that you use the experience to your advantage and seek feedback wherever you can. Most companies will offer feedback on your application once you hit the telephone interview stage – take full advantage of the opportunity and use what you've learned to help give you the best shot at securing a great role.
Application season needn't be a stressful time; if you're well-prepared and willing to keep your options open you'll be progressing on your journey to graduate employment before you know it!
To apply for Centrica's graduate schemes and summer internships, click here.