Centrica & NEA - our £1.2m Community Action Partnership is delivered alongside local authorities to improve people's lives.
We want to help tackle fuel poverty and to do so, we are collaborating across sectors to ensure those most in need throughout society are supported. That's why in 2014, we continued to partner with fuel poverty charity National Energy Action (NEA) and together, we reached over 71,600 people with energy advice and assistance.
Our £1.2m Community Action Partnership is delivered alongside local authorities to improve people's lives. We do this by creating a tailored Affordable Warmth Strategy while equipping local communities with the tools they need to combat fuel poverty.
We now have eight Community Action Partnerships across the UK. In 2015, we launched a new partnership with Cardiff which has already provided a range of practical and strategic support to vital local organisations. Training sessions have been run for 80 frontline workers such as money advisors, housing support officers and health trust practitioners, and an event was held for local people to ensure they receive the right information and advice on energy efficiency, budgeting and household finances.
The partnerships also empower local people to make a difference in their communities by becoming energy champions. For example, through the partnership with Walsall Housing Group, energy champion Jimmy said, "I came along to the training to see if there was anything I could do to cut my own bills. I am now keen to share my knowledge with others, particularly older people who may be suffering from health issues or spending more time in their homes".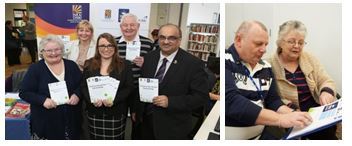 The Community Action Partnership in Cardiff (left) and Jimmy taking part in training delivered via the partnership with Walsall Housing Group (right)
Working in partnership with the Department of Energy and Climate Change, British Gas also supports NEA's Community Action Awards. The Awards reward innovative projects which help communities tackle fuel poverty and save energy. In the 2014-16 Award scheme, 25 organisations will receive investment totalling £50,000.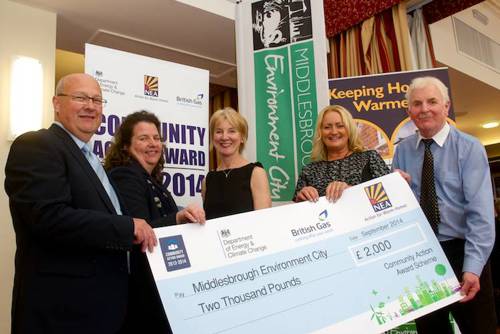 The first of the 2014-16 awards went to the Warmer Middlesbrough project who received £3,500. Their project workers visit hundreds of homes across Middlesbrough to fix everyday heating problems for the elderly and vulnerable. Support includes bleeding radiators or setting thermostats correctly, as well as providing advice on how to keep warm while saving energy.