Graduate Fiona Quinlan gives graduate application tips
Fiona Quinlan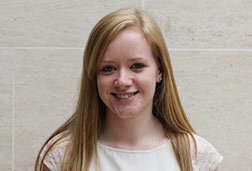 If your online application to Centrica is successful in passing the first stage of the process, you will then be invited to complete our online verbal and numerical tests, and a personality questionnaire. Most likely, you will have encountered something similar before, as such assessments are a common part of the selection process for many graduate employers. However, it's important not to underestimate this stage of the process and to ensure you are adequately prepared. Here are my top tips for how to give yourself the best chance of succeeding at the online tests…
Practise, practise, practise
I can't overstate how important it is, to ensure you take the time to try out some of the many practice tests available online beforehand. This will allow you to get used to the format of the assessments, the type of questions asked and, in the case of the numerical reasoning tests, dust off those (potentially a little rusty) maths skills. If it's been a while since you've needed to work out a percentage increase or average; you'll find you improve rapidly after a few practice runs. I had some good advice whilst preparing for these tests; keep taking practice tests until your scores no longer improve each time you try another – at this point it is likely you've done as much practice as will be beneficial and you are ready to give the real thing a go!
As a starting point here are some good sources of practice test questions and advice:
http://www.criterion.co.uk/about-us/help-for-test-takers/
https://www.assessmentday.co.uk/index.htm
However, a quick search online should lead you to plenty more resources that will be of great help.
Focus on the task at hand
After practising in advance, ensuring that you find a quiet place to take the tests and are in a good frame of mind to do so, are the crucial ingredients of success. Make sure you take the tests at a time of day when you are well rested and nourished and you will guarantee you are on top form mentally. Find a spot free from distractions (whether it be housemates, your dog or the telly) so that you are able to devote your full attention to the tests.
It can be easy to find yourself getting a little flustered, as the tests are intended to provide an element of time pressure. However, here too, practice can be your best friend. Once you're used to the time pressures, familiar with the technique and have a few good practice scores under your belt, you'll find it much easier to stay confident, calm and in the zone. Ensure you have the correct materials at hand whilst taking the tests too – a pen, paper and calculator will all be of help.
Personality questionnaires – don't over think it
Unlike the numerical and verbal assessments, where practice is the best means of preparing, the personality questionnaire is less about preparation and more about openness. My best advice here is simply to give an honest appraisal of your personality – there are no 'wrong' answers; we are simply looking to better understand your working preferences and style. In fact, attempting to tailor your responses to fit what you perceive to be 'right' may inadvertently achieve the opposite and paint a confusing picture of your character. One of the key leadership behaviours Centrica looks for in candidates is learning agility, and key to this is self-awareness. In order to improve your performance, the ability to recognise and appraise your personal style is essential. Be honest about your strengths and weaknesses, and don't spend too long thinking about your answers.
With all this in mind, you should go into the tests with a good understanding of what you are undertaking, a focused and prepared mind-set, and as a result know that you have given yourself the best chance of success. All that's left is to wish you good luck!