James Winterbotham, 2015 HR Summer Placement - My learning visit to Krakow, Poland
It wasn't what I was expecting. Hull maybe, or perhaps Aberdeen or Stockport (although I will also be visiting Stockport next week, so I didn't miss out there). These, surely, were the best destinations I could expect for a learning visit during a 10-week Summer Placement. Not so! A couple of weeks after I started here at Centrica, my Line Manager took me aside and asked me if I would like to go on a learning visit to Poland.
They look after us here at Centrica, that's for sure – from the longest-serving veteran to the freshest-faced intern. From day one of working in any position in the company, they will relentlessly start to invest in you. You'll find that your professional development flourishes almost overnight.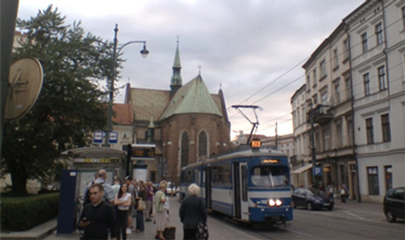 The purpose of our visit was for me, along with several newly-appointed HR managers from across the Centrica group, to meet the staff at Aon Hewitt's Centre of Excellence in Krakow. The HR Services firm Aon Hewitt provides several outsourced HR services to Centrica, including creating our contracts of employment and running a call centre for employees with HR-based questions or issues. Over the course of two days we met a wide variety of people, were introduced remotely to Aon Hewitt's team in Gurgaon, India, and shadowed call centre and administrative staff, listening in to live phone calls from Centrica employees and taking part in an assessment of recorded calls to measure their success. The call centre was tiny for a clientele of over 30,000 people – there were thirty telephone advisors at most. Calls were handled with professionalism and efficient friendliness. And everyone spoke perfect English. I was reminded of Winston Churchill's maxim: "never in the field of human resources was so much owed by so many to so few".
It wasn't all work – the evenings were our own. We went out to a fantastic Polish-Italian restaurant on the Central Square to sample the local cuisine, plus pasta. And we explored every inch of this beautiful city, discovering such wonders as awe-inspiring Catholic cathedrals, working Soviet helium balloons and fire-breathing statues!
And then it was all over, and we found ourselves on a taxi back to the airport. The trip seemed to pass in a flash, but every second in Krakow was an experience I'll never forget. I just hope that I stay with Centrica long enough to go there again!
Find out more about Centrica's Graduate and Undergraduate schemes here