Direct Energy is helping customers make more informed energy choices with the launch of a new energy insights dashboard.
Do you know why your energy use can go up one month and down the next? We all use energy, but we don't always know how our usage converts into what we pay.
Direct Energy is helping customers make sense of their consumption with the launch of an innovative energy insights dashboard, Direct Your Energy, which is the first of its kind in North America.
Using a smart meter to track energy data, the dashboard breaks down customer consumption to enable more informed choices around how energy is used and consumed. This could lead to better energy behaviours that can reduce energy use and therefore bills and carbon emissions.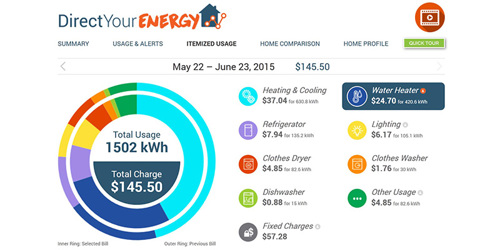 What are the key dashboard features?
A Heat Map Calendar tracks day-to-day usage and shows the highest, lowest and average consumption costs to improve understanding around how different levels of consumption can impact your energy bill.
The Itemized Usage Tool estimates the amount of energy major appliances use in order to show where savings might be made and whether it would be beneficial to upgrade to more energy efficient appliances.
The Home Comparison Tool compares consumption against similar homes with similar appliances and usage patterns in the local area. You can therefore see how your usage stacks up against others which can stimulate changes in consumption.  
Usage Alerts let you know if your energy consumption is substantially higher or lower than your predicted energy consumption, helping identify where changes could be made.  
The Dynamic Usage Graph shows household energy use by day, week, month or year and measures it against the average temperature in the local area so that you can adjust future usage accordingly.
Predictive Weather Overlay predicts the potential cost of your energy bill based on historical usage patterns and forecasted weather conditions. This can enable proactive changes in usage that will potentially lower costs.
We are committed to helping our customers gain better energy insights so while Direct Your Energy is currently only available to customers in Texas, we plan to roll-out the service to more people in the future.  
Learn more about this innovative new product by watching the video or read how we are leading the way in energy innovations across the company in our CR Report.