Centrica's Distributed Energy and Power business has today announced the installation of one of the country's largest commercial battery storage schemes for Gateshead Council
The battery project has been designed to store or release energy for the Gateshead District Energy Centre, which opened earlier this year, and will be capable of responding to any fluctuations in demand in under a second.
With a total capacity of 3MW, the state-of-the-art battery scheme is made up of six units that hold the equivalent of one million AA battery cells. It is capable of storing enough power to meet the needs of 3,000 homes for one hour.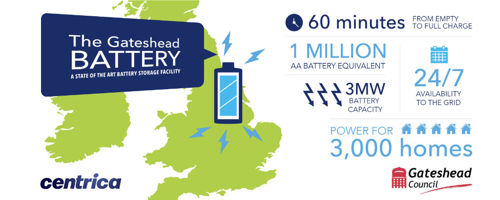 Once commissioned, Centrica will manage the project under a 10 year contract, providing various flexibility services for the grid which help keep the national electricity network in balance.  In time, it will also be used to help meet peaks in local demand, providing electricity through a private wire to council-owned buildings and well-known Tyneside buildings including Gateshead College and the Sage Gateshead concert venue.
Alan Barlow, UK&I Director for Centrica Distributed Energy and Power said: "The Gateshead Energy Centre is a ground-breaking scheme and an impressive demonstration of how distributed energy solutions can generate cost savings, strengthen resilience, by bringing together battery storage and other energy technologies."
The Gateshead District Energy Centre consists of a pair of 2MW combined heat and power (CHP) units, which generate enough electricity to power 5,000 homes. The power is distributed via a private wire network consisting of high voltage electricity cables, while waste heat from the engines is recovered to provide hot water for heating via a 3km network of heat pipes.
Cllr John McElroy, Gateshead Council's Cabinet Member for Environment and Transport, said:  "This battery installation completes the wider District Energy Scheme, which will provide low cost heat and power to homes, organisations and businesses in central Gateshead.
 "It's a bold, imaginative scheme that means we can also store and release power when we choose, as well as supporting the National Grid, which helps raise more income to support Council services."
The battery storage scheme builds on a long-term energy partnership between Gateshead Council and Centrica who have installed 2MW of solar panels on 34 public buildings in the town. The business has also separately installed CHP units at five council-owned leisure centres including Gateshead, Heworth and Dunston Leisure Centres.
To find out more about how Centrica is helping businesses to gain advantage from their energy, go to www.centricabusinesssolutions.com